CEO and Business Coaching
Why Is Courage Important in Leadership & Implementing Change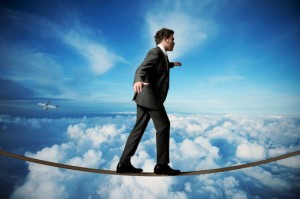 Change is faster and more present today than ever before in our culture. Whether it is business, technology, organizational thinking, globalization,  we are faced with more change today than ever before in our history. So, why is courage important in leadership? In the face of so much change, leaders are often on a short leash or timeframe, walking a tightrope to navigate an organization including the key executives through that change successfully. That takes courage as it is your head that is on the block!
While preparing this article on the subject of courage, I am reminded of the value of an empathy map. Empathy maps bring forward a perspective of our senses that we could otherwise miss. Visually, they help us understand that, more than just speaking, listening and seeing are present in communication.
Being prepared to use our full cadre of sensitivities (e.g., thought, emotions, and the heart), with feelings and care, as well as recognizing the body language of those with whom we are engaged, sounds like a tall order.
When faced with any sensitive issue or potential conflict, it is valuable to understand that the person(s) with whom we are communicating come with a full spectrum of interactions. To say the least, there is a lot going on when we meet with colleague(s) to discuss any change in how a business functions. These reactions can easily become intensified in times of stress, particularly if the news of change is considered bad by some.
Mental toughness is many things and rather difficult to explain. Its qualities are sacrifice and self-denial. Also, most importantly, it is combined with a perfectly disciplined will that refuses to give in. It's a state of mind—you could call it character in action. — Vince Lombardi
CREATE COURAGE
I gain much useful information when coaching on strategic issues that touch on the challenge with which my coachee is dealing. As an integral part of the corporate coaching process, I purposefully probe my client's ideas on a topic. My facilitation is a search for solutions, which I expect to bubble up along with a potential action plan. My probing helps unearth all components of the situation (e.g., its nature, the implications, and the short- and long-term range).
With a clearer understanding of how the behavior, problem, or issue affects an organization, an individual, or a business, my coachee is able to identify with certainty what they are dealing with and what the next steps will be. Probing helps answer the question, "What needs to happen now?"
Creating Courage: Getting Past the Blocks to Success
Many times, forward movement is restricted by a person's reluctance to take action, especially if the consequences impact others. Say, for instance, that my coachee's actions are likely to affect the economic well-being of an employee. Proceeding with such a change and knowing that the results will affect that person negatively can be difficult.
At the same time, there is the primary need to solve the problem so the business survives. Having the conviction to know what is best for the organization as a whole takes discipline. Despite the difficulty, the courage to act is imperative. Often, when a client is struggling with a tough situation, I will ask some of the following questions:
An overarching reality for any business owner who grapples with hard decisions is that the business has little value to those who rely on it—either for their livelihood or as a supplier of goods and services—if it does not remain viable and stay in business.
Each step in the coaching process helps a coachee build the courage needed to be effective and decisive in their actions. As they converge on a solution, I have found that, when my coachees use their self-empowerment, they clear the roadblocks that have been impeding success. Thus, their organization can move on and achieve higher levels of accomplishment.
Blocks That May Affect Optimal Performance
Fear of failure
Fear of success
Procrastination
Perfectionism
Negative self-image
Poor time-management skills
Stagnation in comfort zones
Poor organizational skills
Difficulty balancing work and home
Lack of self-confidence
Poor communication skills
Anger/frustration
Negative habits
No fulfillment at work
Low self-discipline
Inadequate goal-setting
Difficulty giving feedback to others
Lack of conflict-resolution skills
Poor listening skills
We have only highlighted some of the doubts (that can creep in) and reasons in answer to the question of: Why is courage important in leadership?. Entire books have been written on the subject. It takes a combination of audacity, humility, faith and conviction to exercise courage and lead an organization through the ups and downs of a business or organizations development.
If you enjoyed reading this article, you may also be interested in the related articles below.