CEO and Business Coaching
How to Hire Employees; Michael Whatmore's Guide to the Interview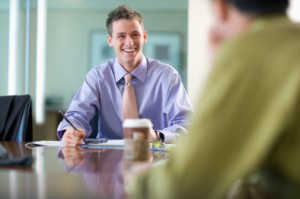 Are you making the best hiring decisions for your organization? According to Development Dimensions International's global study, the answer from many employers is, "No." How to hire employees that have the requisite skills and can slot into the job and organizational culture is a challenge!
DDI found that half of employers experience "buyer's remorse."
Dr. Scott Erker, DDI Selection Solutions Vice President and study coauthor, says, "An unpleasant surprise after a candidate becomes an employee is that the new hire is just not cut out for the job. The shame of it all is this information about a candidate goes undiscovered during the selection process."
Hiring is always a challenging process; what steps can you take during the interview to ensure that you get the best candidate for the job? I recommend a minimum of three interviews and, for an executive position, four or five. Here is my strategy for how to hire employees that will give you reliable new talent:
Interview #1: Meet Your Best Candidates
This interview allows you to get a feel for how a person responds to questions and how the conversation flows. While I always favor in-person interviews, this one can be done on the phone, especially if you're narrowing a wide field. If the role requires specific experience or training, get details on those basics; if a second interview is warranted, ask the candidate to bring diplomas, certificates, or portfolios to the next meeting.
As you're speaking, keep the following subjects in mind:
How well does this individual interact with me?
Are they interested in the work?
Do they actively engage in the conversation?
Are they offering ideas and suggestions, or simply answering questions?
What are they contributing to the conversation?
These are important factors to consider because they are indications of how a person may function in the job.
Interview #2: Uncovering Talents and Motivations
If your candidate passed muster with the screening interview, delve more deeply into their experience and education. Take steps to obtain a formal application for employment, and get appropriate releases signed to enable you to check references and credentials. Verify education and qualifications; if you don't have the time, hire an Human Resources (H/R) consultant.
At the second interview, I like to ask interviewees to draw a picture of their day, filling in the work they're doing. I hand them a pen and paper to determine if they have the experiences needed for the job and to see how they respond to this request. This potential curve ball lets me see what type of hitter we may have at the plate.
Here are some interview questions to keep in mind for the second interview:
How will the candidate handle various responsibilities?
What do they want in a position?
What work experiences and what successes have they had?
If currently employed, what's the reason for moving on? My listening is tuned for issues and conflicts. Is the person leaving because of a problem? Are they placing blame? If an issue or conflict surfaces, what can you discover about it?
Examples of follow-up questions are:
When in the past have they experienced a similar situation?
If they have experienced a failure, what was it and what if anything did they learn from it?
Interview #3: Share Your Vision and Mission
By the third interview, both you and the candidate have invested considerable time. This is the opportunity to discuss your philosophy and vision by asking them how they see themselves fitting into your organization.
Several years ago, I was coaching an alternative medical specialist who needed to expand business but was hesitant to do so: "These are my clients. I can't turn them over to just anyone." The need boiled down to finding someone who was aligned with the purpose and values of the practitioner. Following my recommendation, this business owner shared vision and mission statements with the finalist candidates, and then asked this question: "How will you contribute to the growth of this practice?" Using this tactic improved the selection process; the best candidate became obvious and has remained a trusted long-term employee. This is a terrific way to get a sense of the potential contributions and work ethic of a candidate.
Personality Assessments
When appropriate for a particular role, having the candidate take a personality assessment can be very useful. If, for instance, you are hiring someone for a sales position, this person will be interacting with clients and the public and representing your company. I recommend and use the DiSC profile (e.g., identifies dominance, influence, steadiness and conscientiousness). It is not a test to pass or fail; rather, the results can provide valuable insight for your search. It's an important part of how to hire employees that can give you additional insights and peace of mind that you are hiring the right person. As a tool, DiSC helps you understand how a person is motivated, works, and communicates. It is also a guide to help you support them to achieve optimal performance. Depending on the number of applicants and your time constraints, such an assessment could be administered after the second or third interview.
The right hire can drive your business forward. As Jim Collins writes in Good to Great, "The old adage 'People are your most important asset' turns out to be wrong. People are NOT necessarily your most important asset. The RIGHT people are." Invest wisely in your growing business by taking the time to find the right people.
If you enjoyed reading this article, you may also be interested in the related articles below.
Error: View quotca250613qvquot may not exist