CEO and Business Coaching
Applying Hewitt-Gleeson's X10 Thinking, CVS and BVS Principles to Your Team Leadership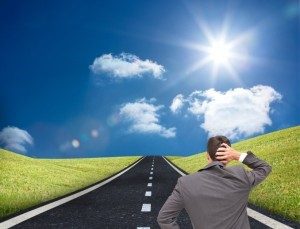 Given the rapid innovation and technological revolutions of the past decade or so, it can seem difficult to believe that one of the most revolutionary "software" apps of the business world was developed in the 1980s. X10 thinking is game changing for businesses.
In Software for Your Brain, cognitive scientist Michael Hewitt-Gleeson expounds the notion that people's "necktop computers," while containing powerful hardware, are woefully limited in terms of software. Installing new "CVS2BVS" thinking reveals promising perspectives and opportunities.
CVS 2 BVS
Hewitt-Gleeson referred to CVS 2 BVS as the "universal software." What does this term mean? Simply put: Whatever the current view of the situation (CVS), there is always a better view of the situation (BVS) — if one only looks for it. "The universal brain software allows the brain user to switch from one parallel universe to another," or from the current view to a better view.
One of the tenets of CVS2BVS is "X10 thinking", that the BVS can be 10 times better than the CVS. To plug it into the equation: CVSx10=BVS.
The "Universal Software" Uploaded at General Electric
When Jack Welch took the reins at GE, he had a simple equation in mind: GEx10, which he called the "simplest idea in the world." He would transform the company by delivering 10 times the value to customers and 10 times the return for shareholders. In those early days, he called in Hewitt-Gleeson to "install" CVSx10=BVS or "X10 thinking" in the company.
Welch ran training sessions on a weekly basis, put up "x10" messages throughout the company, and developed the motto, "Finding a Better Way Every Day." But, as he wrote later, "Suddenly, 'Finding a Better Way Every Day' wasn't just a slogan. It was the essence of boundary-less behavior, and it defined our expectations."
As a result of x10 thinking and CVS2BVS, GE did, in fact, live up to Welch's promise: It grew from $4 billion to $484 billion, making it, at that time, the most valuable company in the world.
CVS2BVS: The "Value-Added Role"
Welch wrote a personal note to Michael Hewitt-Gleeson, as he was wont to do, and mentioned, "I would love to have a management team that really understood the CVSx10=BVS equation. It's the value-added role in the management process." This formula and this manner of thinking can be applied in any organization and in any management team.
When faced with a current situation, Hewitt-Gleeson poses two options: to defend it or to escape from it. "To escape" is to allow for an alternative viewpoint, bringing forth an opportunity to question why things are happening. It is not meant for people to lament or defend the current reality but instead to envision a better, improved state.
When Is CVS2BVS Thinking Useful for Leaders?
Welch used CVS2BVS thinking to defuse crisis situations and to improve everyday organizational life. The "software" can have many applications, including questions such as:
Why is a situation unsafe?
Why can't circumstances improve?
Why do organizations function as they do?
Often, "why" can be considered a challenge, and reactions to that word can be a bit testy. Folks naturally want to defend their current view. If they are not careful, the idea of asking why certain things happen can perhaps lead to defensive explanations rather than thoughtful views of what the situation could become. The worst-case scenario is that people continue to hold the same view and defend their position—without considering ways to improve it.
How can teams avoid defensive "why" thinking? It's important to look at a situation and use "why" carefully and within a context of finding out what could change the situation. For each of the bulleted questions above, for instance, in addition to asking "why", they can pose a follow-up "what":
What can they do about it?
What can change so it is different?
What actionable steps can they take?
CVS2BVS and "X10 thinking" provides a powerful, constructive way to look at situations. Asking these questions can be quite motivating. People can tune into thinking about what they could do to change their current thinking or situation. The answers are there, and CVS2BVS encourages folks to seek them.
If you enjoyed reading this article, you may also be interested in the related articles below.
Error: View quotca250613qvquot may not exist